Hehmsoth named MacDowell Colony Norton Stevens Fellow for 2012
Posted by Jayme Blaschke
University News Service
June 7, 2012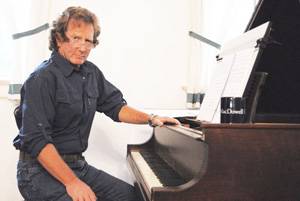 Hank Hehmsoth

Hank Hehmsoth, a faculty member in the School of Music at Texas State University-San Marcos, has been selected as the MacDowell Colony Norton Stevens Fellow for 2012.
Hehmsoth was selected for this honor based on the spirit of his work and importance to the world community of artists.
In 1975, in honor of Colony fellow Aaron Copland, the Norlin Foundation established an endowment to provide the fellowship for composers. The MacDowell Colony Norton Stevens Fellowship is one of the highest awards given in the United States to artists. The MacDowell Colony is the nation's leading artist colony. The Colony nurtures the arts by offering creative individuals of the highest talent an inspiring environment in which they can produce enduring works of the imagination. Hehmsoth was awarded a MacDowell Fellowship in 2011.
In May Hehmsoth was U.S. ambassador of good will and representative of the Texas State School of Music during an international lecture/performance tour in Chile. He conducted a lecture/clinic at the Instituto Profesional Projazz in Santiago, and was guest artist with the jazz ensemble, performing in Santiago and Valparaíso.
Audiences heard the first public performance of Freedom STOMP April at the Mysterium for New Music in Evans Auditorium. Hehmsoth's Freedom STOMP composition was written specifically for the Common Experience theme for 2011-2012: "Freedoms: The First Amendment," and is his personal artistic expression of the basic freedom of speech.
Hehmsoth is a National Endowment for the Arts fellow in jazz composition, placed first in the 2010 National Association of Composers, USA, Texas Composition Competition, and was runner-up for the 2011 Texas State University Presidential Award for Excellence in Scholarly/Creative Activities.