Water ski team wins national championship
By Jessica Sinn
University News Service
November 2, 2007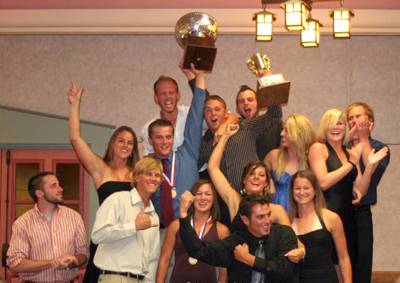 The Texas State water ski team celebrates its division II national championship.
The Texas State University-San Marcos Water Ski Team won the division II national title at the 29th Collegiate Water Ski National Championships Oct. 25-27 in
Zackary, La.
The three-day tournament consisted of team competitions for men and women in three water skiing events: slalom, tricks and jumps.
The Bobcats placed first for a clean sweep and received the division II Combined School Overall Team trophy. Individual award winners include Bobby Hall of League City, second place jump, second place tricks and first place overall; Kevin Shimek of Houston, third place jump; John Bryant of Granbury, fifth place jump; Christa Hamilton of Sachse, fifth place slalom and fifth overall; Katy Brantley of Burnet, fourth place jump.
Texas State's water ski team was one of 20 of the nation's top collegiate teams to compete in the event. Thirteen Texas State team members competed in division II with Texas A&M University, University of North Carolina at Chapel Hill, Rollins College, University of Michigan, University of Illinois, University of California-Davis and San Diego State University.
The water ski team, a sports club affiliated with Texas State's campus recreation department, is the oldest active sports club at the university. Since the 1970s, the water ski team continues to represent Texas State in intercollegiate competitions.
For more information about the Texas State Water Ski Team, visit www.campusrecreation.txstate.edu or call (512) 245-2392.