Milam receives Lone Star Emmy for documentary "Sniper '66"
By Marc Speir
University News Service
November 5, 2007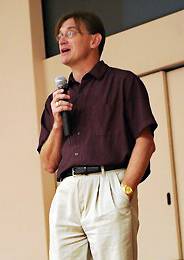 Whitney Milam (Photo by David Racino)
Texas State University-San Marcos public history graduate student Whitney Milam's film, "Sniper '66," received a Lone Star Emmy Award Oct. 27 for "best historical documentary" from the Lone Star Emmy committee.
The Lone Star chapter of the Emmys is a regional arm of the Academy of Television Arts and Sciences and serves all 19 television markets in Texas. The group is composed of professionals from the television industry in the areas of news and non-news broadcasting, production and post-production, education, advertising and public relations.
"Sniper '66" was previously honored with a 2006 Telly Award for "outstanding historical television documentary."
Milam's documentary, which examines the Charles Whitman murders from atop the University of Texas clock tower August 1, 1966, was broadcast on KTBC-Fox 7 in Austin, KDFW-Fox 4 in Dallas, and KRIV-Fox 26 in Houston.
The 42 year-old native of Austin combined his love of history and his 12 years of experience as a director and producer for sales and special projects at KTBC-Fox 7 to create the documentary. He says his studies at Texas State also sparked his passion for telling stories.
"Around 80 percent of the books I read are history-related," Milam said. "I've been able to further develop my documentary skills at Texas State."
Milam's examination of the murders ignited interest in the wake of its 40th anniversary last year. The tragedy held the solemn title of bloodiest school shooting in U.S. history for more than four decades with 31 injuries and 14 deaths not counting Whitman, his mother and his wife whom he had killed earlier that morning.
Some also consider the unborn child of a pregnant woman Whitman killed as another death along with a wounded man that received kidney dialysis due to Whitman's shot who died 30 years after the incident. The disturbing record was eclipsed by the massacre of 32 lives at Virginia Tech in April.
Milam's program originally aired as a 23-minute news feature on July 30, 2006, for KTBC-Fox 7.
"After the shorter version came out, I was contacted by people that saw it and had other things to say about what happened that day that gave a lot more depth to the story, so I added onto it," Milam said. "Television is very regulated by national companies in terms of time and exposure and the 26 minutes or so of content that I got just wasn't enough."
The expanded one-hour "director's cut" premiered in the Alkek teaching theatre on campus in the fall of 2006 and included a discussion with many personally involved in the assault. Those attending included Ray Martinez, one of the two officers that killed Whitman, numerous bystanders and survivors of the slaughter, and Gary Lavergne, author of A Sniper in the Tower: The Charles Whitman Murders.
The documentary, utilizing eyewitness accounts and reenactments filmed within Whitman's former home, shows different perspectives to the mass murder and contains never before seen footage of the shooting as it unfolded.
The film includes interviews with Martinez, Lavergne, former KTBC reporter Neal Spelce, director of KLRU Gordon Smith, Brackenridge Hospital surgeons Robert Pape and Albert Lalonde, and former University of Texas president Larry Faulkner.
Milam has produced past documentaries on Lady Bird Johnson, the bombing of Pearl Harbor and its effect on Texans, and the history of the KTBC television station as it led up to its 50th year in Austin.
"Whitney has actually been in the field of television production for quite a while," said Frank de la Teja, state historian and chair of the Department of History. "It shows off his dedication to the craft of combining reporting with a historical perspective. The historical weight and value he's put into it is what we're proudest of."
Milam said that making any documentary requires the producer to be extremely interested in the subject matter.
"You're going to be writing, researching, editing, re-shooting and seeing the same stuff over and over," Milam said. "You'd better have a passion for it."
Milam and public history graduate student Stephanie Jarvis recently completed a short documentary examining the history of the French Legation Museum in Austin. Authorized and created for use by the Daughters of the Republic of Texas, "A Glorious Opportunity: The French Legation in The Republic of Texas" was scheduled to release in October.
Anyone interested in obtaining a one-hour version of "Sniper '66" can contact Milam via e-mail at: whitney.milam@foxtv.com. Copies cost $20 and are available by check or money order payable to KTBC-Fox 7.