Pascoe lends play, teaching style to Houston school
By Marc Speir
University News Service
November 7, 2007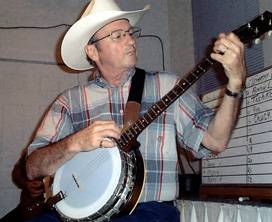 Chuck Pascoe
Texas State University-San Marcos theatre professor Chuck Pascoe is a playwright and a child drama specialist. A member of the faculty for 26 years, he is now lending his talents to strengthen the curriculum and instruction at Hoffman Middle School in Houston.
Hoffman, a public school that caters to seventh and eighth graders, is attempting to acquire the status of an international baccalaureate school, where students develop innovative skills and socialization for a rapidly globalizing world.
Darrell McFarland, a 1986 Texas State alumnus and theatre arts teacher at Hoffman, contacted Pascoe to assist in implementing a campus-wide theme of fine arts at the school that he says will bring Hoffman closer to reaching international baccalaureate accreditation.
"I'd discussed doing this with our administrators for a while," said McFarland, a former student of Pascoe. "When a grant came up that allowed us the opportunity to put art in the classrooms--all the classrooms--I immediately knew that Dr. Pascoe could help."
The theme, similar to the "Common Experience" structure at Texas State, will be administered across all subjects for the 883 students at Hoffman. The school will use Pascoe's children's play, "Rodeo Magnolia," as a catalyst towards creative dramatics instruction when it's found appropriate in the classroom.
The play is the story of the first original horse in the world that is driven to the foothills because of urbanization and then cast out by his fellow equines. Pieces of the play will be woven into the curriculum, not just in artistic courses, but also in the sciences.
Examples include discussing the desert conditions where the horse lives in earth science, acting out the chambers of the heart in animal anatomy and calculating the speed of the horse in mathematics.
Pascoe will travel to Hoffman this month to workshop with faculty in teaching the method of creative dramatics across all disciplines of study.
"Participating in drama helps everyone improve the way they present themselves," Pascoe said. "You can see it in the way they talk, the confidence in their voice and how they stand on their feet."
He says the technique increases learning retention rates by ensuring that students actively participate.
"The old way of teaching needs to be updated--we only retain 10 to 20 percent of what we read and 30 to 40 percent through audio-visual presentations," Pascoe said. "The best retention is when you have a practical, real world scenario. Since we can't always do that, the closest we can get is through a derived or pretend experience."
The progressive style is already seen in many different areas of instruction.
"In law schools they call it a mock trial and in the military they call it a simulation," Pascoe said. "They use it because it works best in preparing people."
McFarland agrees that teaching the method enhances involvement and critical thinking.
"Hands-on activities are better than just a lecture," McFarland said. "We're not reinventing the wheel here, we're just giving it more grease."
As for the play itself, auditions will take place in late November to fill a cast of 10. An initial presentation is scheduled for UIL competition Feb. 16.