Gilb honored for lifetime achievement at Texas Book Festival
By Marc Speir
University News Service
November 19, 2007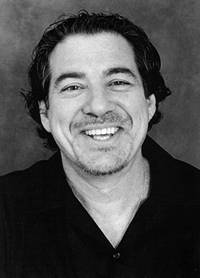 Dagoberto Gilb
Dagoberto Gilb, writer and professor in the Master of Fine Arts Program in Creative Writing at Texas State University-San Marcos, was recently honored with the Bookend Award for lifetime achievement and contributions to literature at the Texas Book Festival in Austin.
Gilb was recognized for his lifelong contributions to Texas writing through his two novels, four collections of short stories and an anthology on Texas-Mexican literature.
He accepted the award in the chambers of the House of Representatives at the State Capitol earlier this month along with fellow recipient and author Rolando Hinojosa-Smith.
Compared in writing style to Raymond Carver and Anton Chekhov, Gilb's life and works have revealed him as of the most distinctive voices in American literature today.
Born in Los Angeles, Gilb's ancestry is a mix of Mexican and German that embodies the diverse culture of the United States. Upon graduating with a double major in philosophy and religious studies, he went on to earn a master's in religious studies.
Gilb had difficulty getting a white-collar job and instead became a skilled carpenter and journeyman for 15 years, shifting back and forth between the cities of El Paso and Los Angeles, all the while writing novels and short stories, much of which focus on the Latino underclass.
In 1982, Gilb was published for the first time in The Threepenny Review. His writing career solidified through the next few years as his works were celebrated with critical acclaim.
Upon winning the James D. Phelan Award in 1984, Gilb had a collection of short stories published in Winners on the Pass Line (1985), the first publication issued by Cinco Puentos Press. In 1988, he received a Dobie-Paisano Fellowship from the Texas Institute of Letters and in 1992, a fellowship in creative writing from the National Endowment for the Arts.
His works include The Magic of Blood (1993), The Last Known Residence of Mickey Acuna (1994 -New York Times Notable Book Award), Woodcuts of Women (2001), Gritos (2003) and Hecho en Tejas: An Anthology of TexasMexican Literature (2006).
Gilb's work has also appeared in The New Yorker and Harper's. He is a past recipient of numerous honors, including the Whiting Writer's Award, the PEN/Ernest Hemingway Foundation Award, the Texas Institute of Letters' Jesse Jones Award and the Guggenheim Fellowship.
Recently, Gilb was a finalist for the 2004 National Book Critics Circle Award for Gritos and is currently working on a novel named The Flowers, scheduled for release in Jan. 2008.