Texas State brings Tennesee Williams' Night of the Iguana to stage
Date of Release: 10/02/2006
SAN MARCOS —The Texas State University-San Marcos Department of Theatre and Dance presents Tennessee Williams' Night of the Iguana.
Directed by Michael Costello, performances will be Oct. 3-7 at 7:30 p.m. and Oct. 8 at 2 p.m. on the main stage in the Theatre Center on campus.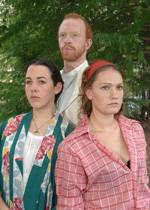 Considered Tennessee Williams' last great play, The Night of the Iguana features Shannon, a defrocked Episcopal priest who faces a crisis of faith and descends into the 'dark night of the soul' in a cheap hotel in the Mexican tropics.
Thomas Lanier "Tennessee" Williams was the recipient of two Pulitzer Prizes for Cat on a Hot Tin Roof and The Glass Menagerie as well as numerous other awards for his large body of work, including A Streetcar Named Desire and The Rose Tattoo. Williams is considered one of the seminal American playwrights of the twentieth century.
Texas State University hosts Night of the Iguana, featuring (left to right) Amber Snyder, Harlan Short and Caitlin Swahn. Photo by Don Anders.

Admission is $10 for the general public and $5 for students with a Texas State ID. Tickets can be purchased at the University Box Office in the Theatre Center, located at the corner of Moon Street and University Drive and available by phone at (512) 245-2204.
Media coverage of this project is invited. For further information, contact the (512) 245-2147.