Balkan folk dancers kick off University Arts' 2004-05 Encore Series
Date released: 08/31/04
SAN MARCOS —The acclaimed FRULA Balkan Dance Company makes its Texas State University- San Marcos debut Sept. 11 in Evans Auditorium to launch the 2004-05 University Arts Encore Series.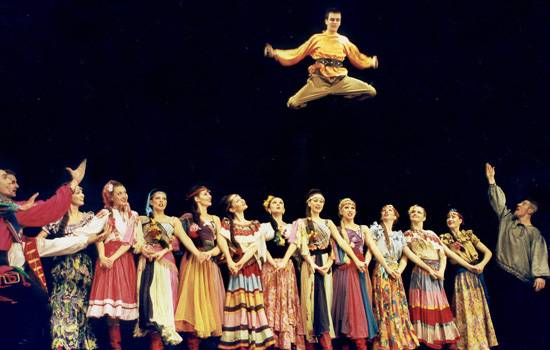 Presenting a rich and colorful program, FRULA performs folk dances from all regions of the former Yugoslavia, as well as from Hungary, Romania, Bulgaria, and Albania. FRULA's core repertoire is comprised of the customs and folk tales gathered from these cultures, and the troupe uses motion as the element binding the colorful traditions of music and dance together.
Over the past 40 years, FRULA has given more than 7,000 performances throughout the world. In the United States alone, FRULA has toured 26 times, appearing in the best halls, such as Carnegie Hall in New York and the Kennedy Center in Washington. The company's breathtaking technique transforms folk into a theatrical show. Dazzling authentic costumes, athletic prowess, cultural pride and the performers' inner joy combined with the technical expertise of the musicians, dancers and singers, prove that FRULA is an exciting perpetuator of cultural heritage.
The Encore Series also features the return--by popular demand--of the hilarious bilingual play Las Nuevas Tamaleras Nov. 6, co-sponsored by the San Marcos Hispanic Chamber of Commerce. The Encore Series' spring semester is highlighted by the world-famous Peking Acrobats for two shows April 2, and the acclaimed jazz ensemble, the Saint Louis Brass Quintet Feb. 6.
For more information, visit the University Arts website at www.finearts.txstate.edu or contact Events Coordinator Liz McDonald at (512) 245-3501.