Former Tx State President Jerome Supple dies at 67
Date released: 01/16/04
SAN MARCOS – Jerome H. Supple, who served 13 years as president of Texas State University-San Marcos (formerly Southwest Texas State University), died Friday afternoon, Jan. 16, at the age of 67 at the M.D. Anderson Cancer Center in Houston.
Jerome Supple
A memorial service to celebrate Supple's life will be
held on the Texas State campus, and arrangements for that service are pending.
A funeral mass will be recited Jan. 23 at Incarnation Catholic Church in Melrose, Mass. Burial will follow at Lakeview Cemetery in Hampstead, N.H.
The family has requested that, in lieu of flowers, memorial contributions be made to the Texas State Development Foundation for the Supple Endowment for Southwestern Studies, the Central Texas Medical Center Foundation or the Hays-Caldwell Women's Center.
Supple was born April 27, 1936, in Winthrop, Mass.
He became the eighth president of Texas State in April 1989. In September of 2001, he announced at the annual fall faculty and staff convocation that he would retire the following August. During that speech, he said of his upcoming retirement, "It will be like swinging the best dance partner ever into the arms of another, a heart-wrenching experience."
Supple's successor as president of Texas State, Denise Trauth, said, "Everyone who has ever had the pleasure of knowing Jerry Supple is heartbroken today. His vision and his spirit are part of what the university has become. I am fortunate that he laid a wonderful foundation for the president who followed him. I will miss him personally and the university will miss him as part of our family."
" The university owes much of its current prestige to Jerry. He left it quite a legacy, and he has been taken from us much too soon," said Alan Dreeben, chairman of the Texas State University System Board of Regents that oversees the San Marcos school and eight others. "I know I speak for all the regents when I say that we will miss him terribly."
During Supple's presidency, Texas State:
Raised admission standards several times, making it one of the most selective public universities in the state.
Improved student retention from 57 percent to 75 percent.
Established several new enrollment records.
Began offering its first doctoral degree programs in geography and education and laid the groundwork for doctoral proposals in other academic fields.
Successfully completed the university's first major gifts capital campaign, raising more than $74 million in the process and exceeding the original campaign goal by $14 million.
Increased private gifts to the university from a half million dollars a year to more than $8 million, and the endowment from $15 million to $53 million.
Increased the amount of research funding from $5 million annually to $32 million.
Acquired the former Aquarena Springs theme park and began its conversion to a research and public education center focused on water resources and environmental issues.
Celebrated the university's centennial in 1999.
Opened several new buildings, including the Science Building (recently renamed the Jerome H. and Catherine E. Supple Science Building), the Albert B. Alkek Library, the new Lyndon Baines Johnson Student Center, the Student Recreation Center and the Health Sciences Building; renovated Centennial Hall, Flowers Hall, the old student center and the J.C. Kellam Building; and began construction on the now-complete Roy F. and Joann Cole Mitte Art, Technology and Physics Complex, the Bobcat Stadium end zone complex, and two major housing projects for students.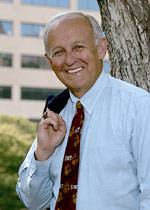 Jerome Supple
Supple was an active participant in the San Marcos
and Central Texas community. Kathy Morris, former mayor of San Marcos and a close friend of the former president, said, "Jerry Supple envisioned and created a new and dynamic environment for higher education at Texas State, and in doing so he touched the heart of our entire community. We will miss our dear friend and grieve with his family."
In 1999, Supple was appointed to a six-year term on the Prostate Cancer Advisory Committee of the Texas Department of Health. The purpose of the committee is to provide the Health Department with strategies for educating the public on the health benefits of the early detection, prevention and treatment of prostate cancer. The following year he launched a grant-funded research project on the effects of cancer on leaders and their roles in higher education. He interviewed 21 university presidents and chancellors who have faced cancer and then published his findings.
Supple benefited from a seven-year relationship with the M.D. Anderson Cancer Center, and was especially grateful for the knowledge, skill and treatment of Dr. Christopher Logothetis and his staff.
Supple came to Texas State from the State University of New York System, where he had progressed through the academic ranks from chemistry faculty member to acting president, serving at campuses in Plattsburgh, Fredonia and Potsdam. He held degrees from Boston College and the University of New Hampshire and served a post-doctoral fellowship at the University of California, Berkeley.
Away from academia, Supple pursued a variety of interests, including fly fishing, pick-up basketball, snow skiing and folk music. Supple and his wife, Cathy, sang in the folk band The Newton Street Irregulars. Texas State's School of Music recently endowed the Jerry and Cathy Supple Folk Music Series.
Supple is survived by his wife, Catherine, son James and his wife Karlyn and grandson Keagan of Exeter, N.H.; son Andrew of Greensboro, N.C.; son Paul of Austin, Texas; his sister and brother in law Colette and George Maguire, his 10 nephews and nieces and 14 great nephews and nieces.