Repainting history, one brush stroke at a time
Date released: 01/05/04
SAN MARCOS, TEXAS – Drivers cruising past Texas State University-San Marcos for the next month or so will likely notice a flurry of activity around the historic Alumni House at the intersection of LBJ and University drives. The tarps and scaffolding going up mean one thing: The venerable building is getting a much-needed paint job.
" We've got it on our schedule to finish everything by the end of March," said Bill Tomlinson, construction contract administrator. "We should have it pretty well wrapped up by then.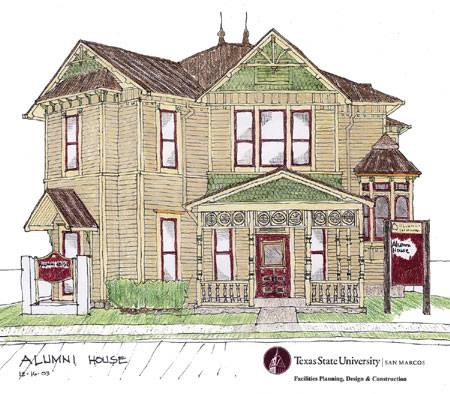 " The work is all exterior. We're refurbishing all the old wood and replacing damaged wood siding," he said. "This has been in the planning stages for the last six months, and we've finally gotten it all approved. The contractors are working on it right now."
There's more going on than meets the eye, however. Over the years water damage, termites and wood rot have caused the structure to deteriorate, and the paint job is the culmination of an extended exterior renovation project, said Coyle Buhler, director of facilities planning, design and construction.
" We're not changing the exterior of the building. We're just repairing the damage," Buhler said. "It needed paint. One of our goals was to make the shell of the building water-tight to protect the historic structure.
" Historic details were missing--there was millwork that was missing, decayed or knocked off. We're going back to repair that damage, replacing the missing historic architectural details," he said. "We met with Texas Historical Commission and got their approval for the work that's being done."
The house, designed by German architect Charles S. Sinz, was built in 1896 and by the 1920s served as a rooming house for college students. Lyndon B. Johnson, a 1930 graduate and 36th president of the United States, lived in the house from March 1927 to September 1928, and again June-September 1929. In 1966, ownership of the house passed from the San Marcos Urban Renewal Agency to Texas State, and a major renovation was undertaken. The Alumni House was dedicated to President Johnson on April 17, 1968, and entered into the National Register of Historic Places in 1983.
Early on in the renovation process, it was decided to apply a paint scheme authentic to the era in which the Alumni House was built. After researching area homes and color schemes, Old Main emerged as a prime example of that historic style, Buhler said.
" It is a gateway--one of the first buildings visitors see when coming from downtown. We needed to have it an attractive and appealing entrance to campus," Buhler said. "We picked up the body color from the body of Old Main, the trim color from the limestone and trim from Old Main, and the accent color used around windows and doors from the accent colors around the windows and doors of Old Main.
" We also utilized two other colors--a green typical of older homes, which we used on the fishgill shingles on the eves and front of the building, and also picked a gold similar to the school color to do accent color on some windows, doors and fretwork around the porch," he said. "It represents the excellence of our campus. It's hard for visitors to get up to Old Main, but once the renovation is complete, the Alumni House will serve as an extension of Old Main--an extension of the history of our campus."