Texas State plans Veterans Day observance, flyover
Date of release: 11/05/03
SAN MARCOS —Those who served their country will be honored by Texas State University-San Marcos with a special ceremony and observance on Veterans Day, Nov. 11.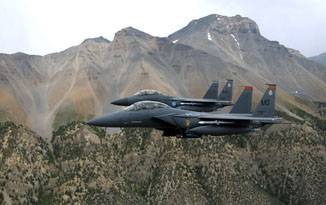 At 12:15 p.m., a color guard formed from the Texas State Army ROTC Battalion and the Texas State Air Force ROTC Squadron will march through the Quad in the heart of campus, posting the colors before the landmark Huntington "Fighting Stallions" statue. The featured speaker is Texas State attorney Bill Fly, who served as a Marine Corps Captain in Vietnam and was one of only two JAG officers wounded in the line of duty and awarded the Purple Heart. Other speakers include master of ceremonies Daniel Vasquez, Assistant Director of Campus Recreation and Abe Jacquez, Director of the Baptist Student Ministry.
Additional highlights include patriotic performances from the Bobcat Marching Band as well as a planned fly-over by F-15 Eagle fighter jets from the 391st Fighter Squadron, based out of Mountain Home Air Force Base in Idaho.
San Marcos-area veterans are invited to attend. For more information, contact Daniel Vasquez at (512) 245-2392.