Common Experience hosts conversations with writer Cherrie Moraga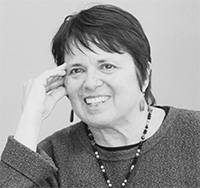 By Ryan Thornton
University News Service
March 7, 2016
Playwright, poet and essayist Cherrie Moraga, recipient of the United States Artist Rockefeller Fellowship for Literature, will participate in two conversations and a book signing on Wednesday, March 23, as part of the Common Experience at Texas State University.
Both events are free and open to the public.
Moraga will give a talk titled, "Feminist Identity and Education," at 11 a.m. in the LBJ Student Center Ballroom and another titled, "Off the Map: Chicanas Writing Our Way into Being," at 6 p.m. in Alkek Teaching Theater. Both talks will be followed by a book sale of This Bridge Called My Back: Writings by Radical Women of Color and A Xicana Codex of Changing Consciousness: Writings 2000-2010. The 6 p.m. talk will feature a book signing by Moraga.
Moraga is an artist-in-residence in the department of theater and performance studies at Stanford University with a joint appointment in comparative studies in race and ethnicity. She has won multiple honors including a TCG Theatre Artist Residency Grant, the NEA's Theatre Playwrights' Fellowship, and two Fund for New American Plays Awards. She is a recipient of the American Studies Association Lifetime Achievement Award as well as the "Pioneer" Award from the Lambda Literary Foundation.
For more information about Moraga and the events, visit www.txstate.edu/commonexperience/calendar/cherrie-moraga.html or email inquiries to mehuerta@txstate.edu.