Gayatri Spivak to speak on "Our World" at Taylor Lecture Series
Posted by Jayme Blaschke
University News Service
January 29, 2015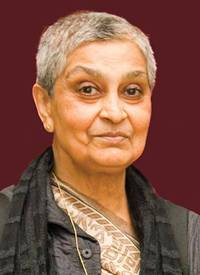 Gayatri Chakravorty Spivak, distinguished professor of the humanities at Columbia University, will speak at noon Feb. 2 in the Wittliff Gallery at Texas State University as part of the Taylor Lecture Series.
The lecture is free and open to the public.
For the past 40 years, Spivak has pushed the humanities to focus on situations contributing to the defeat and withdrawal of European empires from other parts of the world. This focus has prompted many to rethink their place and history. Spivak's translations brought post-structuralist philosophy to the United States and her literary criticism shaped subaltern studies. Her term, "strategic essentialism," played a significant role in the culture wars of the 1990s.
Spivak, a critic, scholar and public intellectual, is now part of an emerging rural, community-based History Academy movement across South Asia. She also belongs to a group of scholars and intellectuals debating the post-colonial predicament facing the world.
The event is sponsored by the Taylor Lecture Series, Department of History, Office of Equity and Access, Center for Texas Music History, Office of Diversity Studies, Department of Modern Languages, National Endowment for the Humanities, Fund for Religious Studies in Philosophy and the Department of Philosophy.
For more information, contact John Mckiernan-Gonzalez at (512) 245-2142.