Wittliff presents Michael O'Brien's "Face of Texas" portrait exhibition
Posted by Jayme Blaschke
University News Service
January 21, 2015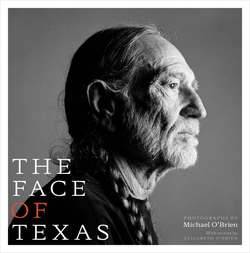 The Wittliff Collections at Texas State University will host renowned photographer Michael O'Brien 2 p.m. Sunday, Jan. 25, for an exhibition reception, artist talk and book signing along with co-author Elizabeth O'Brien.
The event is free and open to the public. It is part of The Face of Texas, the Wittliff's first solo exhibition of work by Michael O'Brien, one of America's premier portrait photographers. The exhibition is on view now and runs through May 15.
From his latest book by the University of Texas Press, Michael O'Brien's portraits celebrate the individuality and independent spirit of Texans—from the rich and famous to ordinary folks—who've made their mark on the Lone Star State. All 48 photographs are from the Wittliff's permanent collection, and each is accompanied by a narrative written by former Life reporter Elizabeth O'Brien. This winning combination of portraits and stories about a fascinating, eclectic mix of Texans is a fitting homage to the unique state.
The Photographs
Coming to Texas for the first time in 1985—on assignment to photograph Willie Nelson on the set of Red Headed Stranger—Michael O'Brien knew he had found an extraordinary place. Eight years later, he moved to Texas, and since then he has been taking portraits all across the state. Included in this exhibition of the Wittliff's images by Michael O'Brien are ranchers and farmers, conservationists, business owners, schoolteachers, writers, church members and bar owners; images of performers and musicians such as Beyoncé, Los Lonely Boys and ZZ Top; and athletes such as Troy Aikman, Earl Campbell and Tim Duncan.
Eighteen of Michael O'Brien images have been selected for inclusion in the Smithsonian's National Portrait Gallery, and the Wittliff is honored to have five of them in The Face of Texas exhibition: Willie Nelson, Texas State alum George Strait, Judge William Wayne Justice, Larry McMurtry, and Harvey Penick with Bud Shrake.
About Michael and Elizabeth O'Brien
Michael O'Brien was born in Memphis and put himself through college at the University of Tennessee in Knoxville by selling his images for publication and doing freelance photography. After graduating with a philosophy degree, he worked as a staff photographer for the Miami News, winning two Robert F. Kennedy Journalism Awards for outstanding coverage of the disadvantaged. In 1979, he moved to New York and freelanced for the next 14 years, photographing for Life, Geo, Esquire, the New York Times Sunday Magazine, National Geographic, Fortune and other publications. Since 1993, O'Brien has lived in Austin, where he continues to do commercial and editorial work as well as personal projects. O'Brien's photographs are in the permanent collections of such institutions as the Smithsonian's National Portrait Gallery in Washington D.C. and the International Center of Photography in New York City.
Elizabeth O'Brien—a lifelong collector of personal stories—has worked as a reporter for Life magazine as well as for newspapers in South Florida. Today, she is a writer and a psychotherapist with a private practice in Austin.
The Exhibition Reception and Program
The public is invited to The Face of Texas exhibition reception, artist talk, and book signing with Michael and Elizabeth O'Brien at 2 p.m. Sunday, Jan. 25. Admission to both the exhibition and event is free. Books will be available for purchase at the event. Attendees to the event are asked to RSVP to thewittliffcollections@txstate.edu for parking directions and other important information.
The Wittliff Collections are located on the seventh floor of Texas State's Alkek Library in San Marcos, between Austin and San Antonio. Exhibition hours, directions, parking information, and other details about visiting the Wittliff may be found online at www.thewittliffcollections.txstate.edu. For questions, call (512) 245-2313.