Wittliff Collections hosts reading, conversation with sisters Elizabeth, Noel Crook
Posted by Jayme Blaschke
Office of Media Relations
October 1, 2015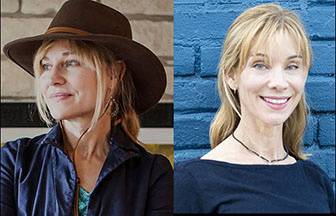 The Wittliff Collections at Texas State University will present a celebration of writing by sisters Elizabeth Crook and Noel Crook at 2 p.m. Sunday, October 11.
Both sisters are acclaimed authors who grew up in San Marcos. At this unique event, each sister will read from the other's work, rather than her own. The readings will be followed by a Q&A.
Elizabeth Crook is the award-winning author of several novels, including her latest, Monday, Monday, which received the 2015 Jesse H. Jones Award for fiction from the Texas Institute of Letters and was named by Kirkus as one of the Best Books of Fiction for 2014. Monday, Monday has just been issued in a new paperback edition.
Elizabeth's previous novel, The Night Journal, won the 2007 Spur Award from the Western Writers of America and also won the 2007 Willa Literary Award for historical fiction. Her first two books, The Raven's Bride and Promised Lands, each highly praised, were originally published by Doubleday and reissued by SMU Press as part of its Southwest Life and Letters Series.
Elizabeth has written for periodicals such as Texas Monthly and the Southwestern Historical Quarterly and she has served on the council of the Texas Institute of Letters and the board of the Texas Book Festival. She is a member of Women Writing the West, Western Writers of America, the Texas Institute of Letters and the Texas Philosophical Society. She was selected the honored writer for 2006 Texas Writers' Month. Her literary papers are held at the Wittliff Collections, thanks to her generous donations of her archives to Texas State.
Noel Crook is an acclaimed poet and the author of two books of poetry, Salt Moon and Canyon. Her work has appeared in Best New Poets, New Letters, Shenandoah, Southeast Review, Potomac Review and other journals. She is the poetry editor for Sun Editions and lives in Raleigh, North Carolina.
Her newest book, Salt Moon, was the winner of the 2013 Crab Orchard Series in Poetry First book Award and is published by Southern Illinois University Press. About Salt Moon, Naomi Shihab Nye says, "The poems of Noel Crook remind us why we love poetry--here are carefully drawn landscapes to dwell in, and rich layers of memory--intricately, elegantly twined and woven. I feel carried away by these rapturously perfect poems. Hold any line or stanza in your mind--it bears the exact weight, energy and detail needed to create the scenes and worlds inhabiting this most potent, tender collection."
This celebration of the two sisters/authors will begin with a thirty-minute reception at 2 p.m., followed by the readings which will begin at 2:30. Both authors will then take questions from the audience and will sign books, which will be available for purchase at the event.
The Wittliff Collections are located on the seventh floor of the Alkek Library at Texas State University in San Marcos. Visitor information, including directions and parking details, is on the Wittliff Collections website at www.thewittliffcollections.txstate.edu.
As always, exhibitions and events at the Wittliff Collections are free and open to the public. Attendees are asked to RSVP to thewittliffcollections@txstate.edu.