In Brief: Texas State MFA student shortlisted for British book design award
Posted by Jayme Blaschke
University News Service
May 21, 2015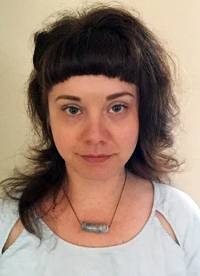 Texas State University graduate student Lindsay Starr has been shortlisted by Penguin Random House UK for its prestigious annual design award.
The 2015 Penguin Random House Design Award, which comprises the Adult Fiction Cover Award, Adult Non Fiction Cover Award and the Children's Cover Award, received more than 1,200 entries from aspiring designers across the United Kingdom.
Starr, 32, is pursuing her MFA in communication design. She is one of just 10 students from across the UK and the United State, who made the Children's Cover Award shortlist. Her place on the shortlist puts her in the running to win a £1,000 cash prize and a design placement with the UK's biggest book publisher.
Starr took on the challenge of designing Nina Bawden's Carrie's War and will be judged by illustrator Cathy Cassidy; writer and illustrator Ed Vere and Penguin Random House UK's Managing Director for Children's Francesca Dow and Art Director Anna Billson.
"I entered the Penguin Design Award competition because it was part of an assignment for the art direction class that I'm currently enrolled in. I never thought I would get this far but am so excited and honored that my cover design has been shortlisted," Starr said. "I'm also grateful for the valuable feedback from a professional art director and will take her comments to heart. Hopefully, this award (even just being shortlisted) will give my resume some professional trade gravitas."
Now in its ninth year, the Design Award offers students on an art or design course exposure to, and guidance from, some of the publishing industry's leading lights with the challenge to design a cover for a selected adult fiction, adult non-fiction or children's book.