'Professor Dumpster' to speak at Texas State about year-long project
Posted by Jayme Blaschke
University News Service
March 3, 2014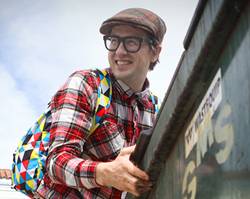 Jeff Wilson
Jeff Wilson, professor of environmental science at Huston-Tillotson University, will give a presentation at Texas State University 6:30 p.m. March 4 on his ongoing attempt at living in a dumpster for an entire year.
Wilson, popularly known as "Professor Dumpster," will speak in room 127 of McCoy Hall on campus. The event is sponsored the Bobcat Net Impact student organization. It is free and open to the public.
With a 33-square-foot dumpster and a team of students and experts, Wilson will transform the dumpster from a barely habitable used garbage container to a sustainable house and interactive teaching lab, drawing attention to the fact that much of the Third World survives in housing of similar size.
During his ambitious project, Wilson will make a dumpster his home for a full year starting in fall of 2013. The initial phases of the project amounted to essentially "dumpster camping" in the bare-bones frame. Over the course of the year, the dumpster will be retrofitted into a modern dwelling space with all the amenities of a standard American home (shower, toilet, kitchen, bed and WiFi access). By living in the dumpster, Wilson will not only experiment with innovative ways to live with less, but will also serve as the friendly face for the educational side of the project.
Wilson is a Texas State alumnus, having earned his Master's in Geography from the university.
For more information, visit http://dumpsterproject.org.