McCoy College dean named to AACSB International board of directors
Posted by Jayme Blaschke
University News Service
July 22, 2013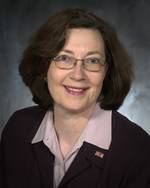 Denise Smart
Denise Smart, dean of the McCoy College of Business Administration at Texas State University, has been named to the Association to Advance Collegiate Schools of Business International (AACSB) board of directors.
Smart's term will run through 2016.
AACSB is the longest-serving global accrediting body and membership association for business schools worldwide. Founded in 1916, AACSB currently accredits 681 collegiate business schools across 45 countries, and is governed by an international board of directors.
"We congratulate our new and returning board members, and thank them for their dedication and service," said John J. Fernandes, president and chief executive officer of AACSB International. "Comprised of members from across the world, AACSB will benefit from the significant wisdom, experience, and leadership that these individuals bring to the board. We look forward to their many contributions in the year ahead."
For more information about the AACSB, visit www.aacsb.edu.