Kaitlin Hopkins to help create first musical theatre program in Chile
Posted by Jayme Blaschke
University News Service
January 9, 2013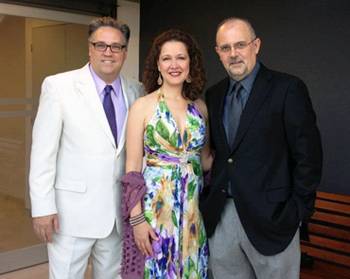 Texas State University faculty members Jim Price and Kaitlin Hopkins with George Abufhele, co-founder of the ProJazz Institute at a recent event in Santiago Chile.
Kaitlin Hopkins, Broadway actress and head of musical theatre at Texas State University, and her husband, Broadway veteran Jim Price, are working to launch the first musical theatre training program in Chile.
Hopkins and Price are working in collaboration with the ProJazz Institute in Santiago, Chile. In addition, they are consultants to the Teatro Municipal de Las Condes (www.tmlascondes.cl) to assist in providing musical theater programming to Chilean audiences.
ProJazz reached out to Hopkins a year ago.
"I immediately said yes! To contribute to bringing musical theatre training to a country that has recently embraced the art form—it was a no brainer," Hopkins said. "I am very grateful to the American Embassy in Chile for the Grant they approved to fund this exciting collaboration."
She recently returned from Santiago after she and Price met with faculty at ProJazz and taught a master class for prospective students as well as well-known actors from the Santiago theatre scene.
"I was so inspired by the students in the master class," said Hopkins. "They were not only incredibly talented, but they were so open to any direction we gave them—they were fearless. It was one of the best days of my teaching career."
"Currently in the United States there are nearly 140 universities offering undergraduate programs in musical theatre" said George Abufhele, co-founder of ProJazz at a recent event in Santiago celebrating ProJazz's 30th anniversary as well as the launching of the country's premier musical theatre program. "We are the first to repair this gap and offer a four-year program specialized in musical theatre to our artistic community. I'm so happy, I don't know where to start."
Hopkins came to Texas State University-San Marcos in the fall of 2009 and has since built one of the top musical theatre programs in the country. Her career as an award-winning actress spans more than 25 years and includes film, television and radio credentials as well as plays and musicals on and off Broadway.
For additional information, please contact the Texas State Department of Theatre and Dance at (512) 245-3660.