Theatre program selected to perform at World Shakespeare Festival
By Kristina Kenney
University News Service
April 19, 2012
A group of 13 theatre students from Texas State University-San Marcos have been selected by the Royal Shakespeare Company to perform at the world-renowned Dell Theatre on June 23 as part of the World Shakespeare Festival in Warwickshire, England.
Texas State was chosen along with a select group of 11 other international educational and community theatres to perform this summer as part of the festival.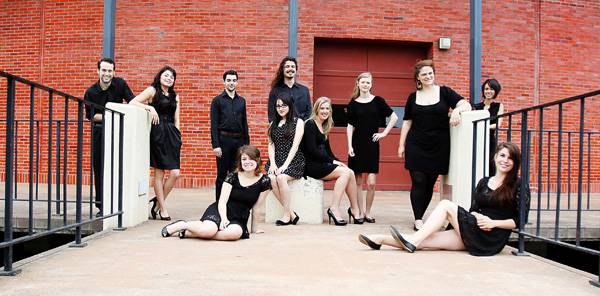 The 13 students who will perform at the world-renowned Dell Theatre are (left to right) Colin Lovvorn, JoAnna Gonzales, Ben Manno, Chelsea Rhea Andersen, Jacqueline Guillen, Harrison Anderson, Rachel Reed, Phoebe Torres, Claire Parker, Kristen Burleigh (back) and Shelby Miller (front). Not pictured are Elizabeth Buras and Corey Kwoka.
The theatre students' performance, Romeo and Juliet: Sweet Division, incorporates an experimental and innovative production approach that includes having major roles played by multiple performers. Fragments of key scenes in the play will be replayed with a focus on the perspectives of different characters. Theatre students will perform the piece twice on June 23.
The students selected are all part of the university's Texas at Stratford Study Abroad Program. The program gives students the opportunity to gain training from professional artists and practitioners through a collaboration with the Royal Shakespeare Company and the Shakespeare Centre in Stratford-upon-Avon, a small market town in South Warwickshire, England, that is also the birthplace and deathbed of playwright and poet William Shakespeare. Program Director Debra Charlton started the program 10 years ago, and believes that the group's selection is a great opportunity to celebrate the program's decade-long run.
"It's such a wonderful opportunity for the students," said Charlton. "This was the first year we've applied, and [the Royal Shakespeare Company] made a real effort to draw in companies from around the world because of the festival. They're really trying to be representative of a global Shakespeare community, so we're thrilled to have been selected as one of the 12 groups to perform."
The World Shakespeare Festival will run from April 23, Shakespeare's birthday, through November 2012. It is an unprecedented collaboration with leading UK and international arts organizations, produced by the Royal Shakespeare Company.
For more information, contact Debra Charlton at dc21@txstate.edu. To learn more about the World Shakespeare Festival, visit www.worldshakespearefestival.org.uk/.