Texas State SIFE team finishes among national 'Final Four'
Posted by Jayme Blaschke
University News Service
June 9, 2008
The Texas State University-San Marcos Students in Free Enterprise (SIFE) team placed in the "Final Four" at the 2008 SIFE USA National Exposition.
A field of 140 teams competed at the national competition, held in Chicago, Ill. The Texas State University SIFE team had previously won its regional competition for the 11th straight year. The national champion was the University of Arizona, followed by LaSierra University, Graceland University and Texas State.
Lidia Robles of Robles International, an alumna of Texas State, was recognized during the event as the "Outstanding Business Advisory Board Member" in the United States. Robles, a member of the Texas State International Championship SIFE team in 2000, was instrumental in the creation and success of the signature outreach project for the Texas State SIFE team in the 2007-2008 year.
In the individual topic competition category, which measures the content of each university's program, Texas State SIFE brought home the first place trophy for Criterion 4, covering financial literacy skills. A complex topic covering how to find start-up capital for new businesses, "Capital Search" is an interactive computer game which explains the seven major funding sources for finding start-up capital for entrepreneurs.
Angela Bertero, past president of Texas State SIFE, was one of only five students nationally honored with a $1,000 scholarship for her leadership role in the Texas State SIFE organization.
Brittany Fiedler was the presentation team captain, and presentation team members were William Payne, Rian Beaudoin, Michael Huddleston, Matt Batten and Lauren Peterson.
In addition to competition, Texas State SIFE students had the opportunity to interview for jobs and internships from Fortune 500 companies, with many receiving multiple offers. Sponsoring companies such as Waste Management, Nestles, Frito-Lay, Del Labs, Finish Line and Campbell's regularly seek Texas State SIFE students for employment with their companies.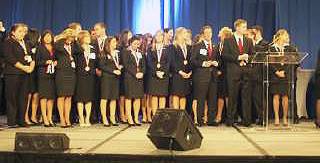 The Texas State SIFE presentation team takes
the stage at the 2008 SIFE USA National Exposition.
ABOUT SIFE
SIFE is a non-profit organization active on more than 1500 college and university campuses in 47 countries, involving 38,000 students in their outreach projects. SIFE works in partnership with business and higher education to provide students the opportunity to make a difference and to develop leadership, teamwork and communication skills through learning, practicing and teaching the principles of free enterprise.
For more information about the Texas State SIFE team, contact: Vicki West at (512) 245-3224 or vw03@txstate.edu.